Apply Today, Drive Today With a Bankruptcy Car Loan!
Rebuilding credit is a major challenge for those going through bankruptcy. Day One Credit works exclusively with customers who have filed for bankruptcy to help rebuild credit with a car purchase. Get your keys to a fresh start and drive the car you need today!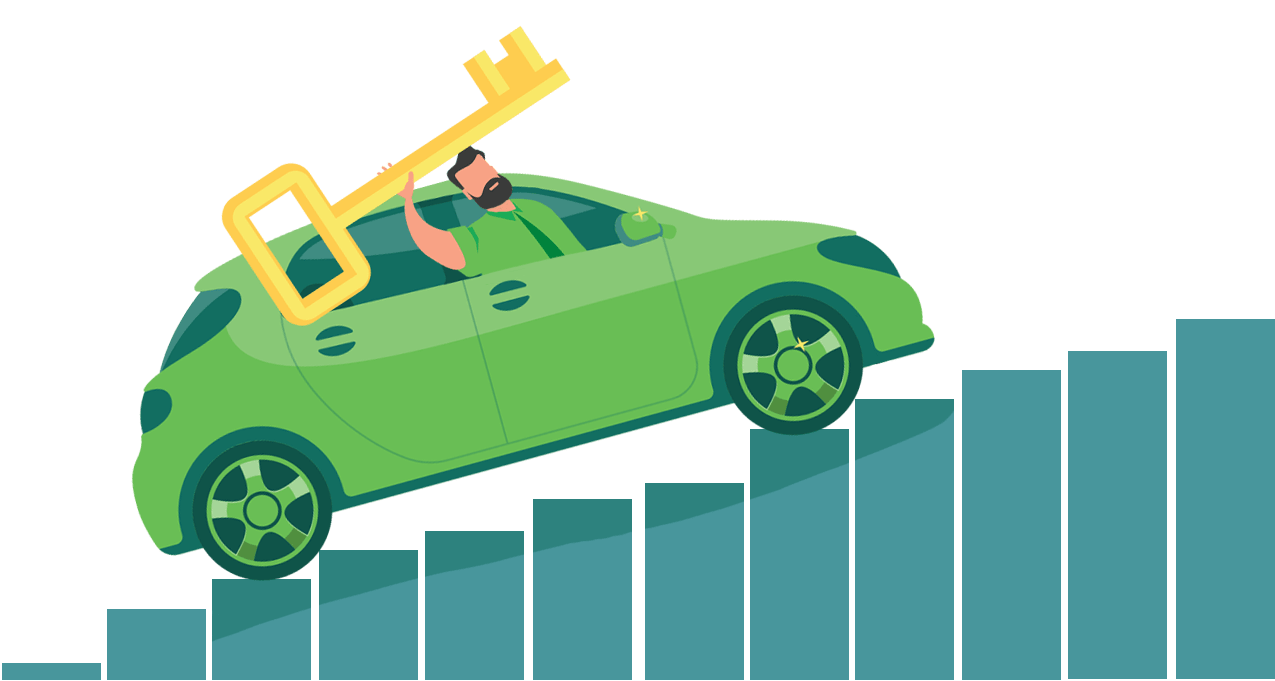 Why Get a Bankruptcy Car Loan?
Bankruptcy gives you a fresh start. Make the most of it by financing a vehicle purchase to enjoy these benefits!
Restore Your Credit
You can start restoring your credit even before your bankruptcy process is finalized.
Get Out of a Bad Loan
If you owe more on your current vehicle than it's worth, check with your bankruptcy attorney about options for surrendering the vehicle back to the lender.
Improve Your Ride
Your fresh start means you can get a better car with lower miles that may cost you less in the long run.
Benefits of Working with Day One
You'll get the most benefits when you choose Day One to find the bankruptcy car loan that best meets your needs.
Apply in Minutes!
Here's What Our Customers Say
New bankruptcy and starting over, and I got a really great deal. Great service. Easy to work with. Would recommend this place to anyone with a bankruptcy or bad credit.
Thank you! Stan and Mike where Awesome! Will tell everyone! When you think there's no one that could help me, but to my surprise, they got me into a new car! This team of people that helped me will forever be part of my family.
Ramil was excellent, very accommodating and did everything he could to get me into a car that I wanted. I recently filed for bankruptcy and he was able to work with that and my budget and I am very happy with my vehicle.
Read more
Mistakes to Avoid When Filing for Bankruptcy
We've been doing this work for years and we've seen it all, including people making these common mistakes.
Buying a Car for Cash

Paying cash for a car won't help you rebuild your credit. Getting a car loan and making on-time monthly payments that are reported to the credit bureaus is a way to start fixing your credit.

Getting a BHPH Car Loan

BHPH stands for "buy-here-pay-here" car dealerships, which means they offer what people also call "in-house financing." Make sure you read the fine print to understand the terms and rate. But if part of your goal is restoring your credit, we've heard some BHPH dealers don't even report to the credit bureaus!

Buying a Car with High Miles

When you settle for an older vehicle with high miles, you often end up paying a lot more in repairs that you expected.

Buying an Expensive Luxury Car

You probably won't get approved, and even if you do, what happens if things change and you suddenly can't afford it? Luxury cars also cost a lot more to maintain, repair, and insure.

Buying a Brand New Vehicle

The big hit you take on depreciation means you'll be "underwater" or "upside down" on the loan for years to come. Used cars are cheaper. Buying a high-quality used vehicle gives you more car for a lot less money!

Not Getting GAP Insurance and Service Contracts

GAP (guaranteed asset protection) insurance is important because it covers the difference between the balance of a loan due on a vehicle and what an insurance company pays in the event of a total loss. A service contract ensures you won't be surprised with huge repair bills when something goes wrong.

Buying a Car for Someone Else

This is nearly always a bad idea because guess who's on the hook for it no matter what goes wrong – YOU!

Buying a Salvage Car

Salvage cars are cheap, but almost always come with a host of problems that will start appearing and costing you tons of money in repairs. Just say no!

Buying a Car You Can't Afford

The last thing you want to do with your fresh start from bankruptcy is buy more car than you can really afford. If you experience any kind of hiccup with your income, you could end up in trouble. You should avoid even going for anything that results in a monthly payment that would be a stretch for you to make. Set yourself up for success by shopping for vehicles that are well within what you can afford.
How It Works
It's as easy as 1-2-3! Your satisfaction is our top priority. You'll love being treated like a VIP with stellar customer service. Our 3-day money-back commitment guarantees your satisfaction!
Getting a bankruptcy car loan with Day One is as easy as 1-2-3!
1. Get Educated
First, find out from your bankruptcy attorney if financing a car purchase is possible for you. If it is, then Day One will help you find the right bankruptcy car loan for you.
Contact us now!
2. Get Approved
Fill out our short application form so we can find the right loan for you.
Apply now!
3. Get Your Car!
Finding the car you want is easy with our great selection of vehicles.
Get started!
Day One Eligibility Guidelines
Day One Credit takes pride in helping nearly everyone who comes to us, but there are a few situations where a bankruptcy car loan isn't the best option. Read below to see when we think you're eligible and when we think you are not.
When We Think You're Eligible for a Bankruptcy Car Loan
When We Think You're Qualified
Expand
Income

Minimum gross monthly of income of $2200 per month as shown on either W-2 forms from employer or 1099 forms for those who are self-employed.

Bankruptcy Status

You need to have filed your BK or your BK has to be recently discharged. We can work with you as soon as you get your case number. We have programs for both open and recently discharged bankruptcies.

Valid Driver's License

Your driver's license must be up-to-date and not suspended.
When We Think You're NOT Eligible for a Bankruptcy Car Loan
When We Think You're Not Qualified
Expand
If You Have a Newer Car

You already have a great car. If your current vehicle is newer, has relatively low mileage, is paid off or close to being paid off, then it makes sense to stick with it.

Income

No stable income or you know you're income is about to drop or your expenses are about to go up (or both).

Bankruptcy Status

The cosigner on your car did not file for bankruptcy. You can damage your cosigner's credit if they did not file BK with you. You have the right to surrender your car, but your cosigner does not have the same right, and the lender will still go after your cosigner.
Check Out Your Next Ride!
We have a great variety of makes and models available. Here are just a few of our recent sales. Roll with our most popular models or let us know what your ideal car is!
Got questions? We've got answers!
Read the top questions customers ask us!
Do you offer a no-money-down option?
It's always best if you can make some kind of down payment, but we understand not everyone can do that. We can offer little-to-no money down options to most of our customers.
Why should I buy a used car?
The goal is to buy a used vehicle because you get more bang for your buck if it's a newer car with fewer miles. They're way cheaper than buying brand-new and will cost you less in the long run.
How soon can I get a new loan?
At Day One Credit, filling out our auto loan application takes less than five minutes. And then you'll have our answer in just minutes!
Do I have to wait until my BK is discharged?
Many bankruptcy filers think they have to wait some magical period of time before they try to find a car loan or wait until the BK is fully discharged. Not true! As soon as you file your bankruptcy you can apply.
What is a Fresh Start Program?
Bankruptcy laws were designed to help people get out from under crushing debt loads and make a fresh start. A Fresh Start Program means a loan program designed specifically to help consumers get the credit they need even though they have filed for bankruptcy. At Day One, that means getting a car loan in spite of a bankruptcy with our specialized network of lenders.
Can I get out my current underwater car loan?
Bankruptcy might include helping you get out of an "underwater" car loan, but you need to check with your bankruptcy attorney to find out your options. And if you need to finance a used car purchase during or after bankruptcy, Day One will help you find a bankruptcy car loan to meet your needs.
What would be my payment?
Your monthly payment depends on factors such as the price of the vehicle, your down payment (if any), length of the loan, and the interest rate.
What would be my APR?
Your interest rate and APR vary greatly because they depend on many factors, including your credit, the vehicle's age and condition, the length of the loan, and more. To figure out your rate, fill out our quick
financing application
and we will get back to you in minutes!
Can I get a better rate if my BK is discharged?
Maybe, but it depends. If you took specific actions while your BK was open (3-4 months on average) to improve your credit or save up money for a down payment, you might get a slightly better rate. But many people simply can't wait to get the car they need, and waiting may not make much of a difference at all.
What kind of car and how big a loan can I get?
There are no restrictions on the type of car you buy, except that you have to be able to afford it! Affordability depends on your payment-to-income and debt-to-income ratios, which are what lenders look at when evaluating your application.
Can I refinance my loan through Day One?
We don't do straight refinancing deals. Our lending programs are designed for purchasing a car, not refinancing an existing loan.
What is going to happen with my old car?
If you owe more on your current car than it's worth, talk to your bankruptcy attorney about your options for surrendering the vehicle back to the lender and how that works.
If I signed a reaffirmation agreement can I still get a new loan?
Yes, you can! When you signed a reaffirmation agreement, all it meant was that you were committing yourself to continued payments on your vehicle's loan. But you still have the freedom to sell that vehicle and get another if you can qualify for the new loan. That may be difficult if you owe more on your vehicle than it's worth (being "underwater" or "upside-down" on the loan), but we've successfully helped many customers with this exact situation.
Can you refer me to a good bankruptcy attorney?
Yes! You can find experienced bankruptcy attorneys on our
attorneys page
.
Attorneys We Recommend
We've worked with these bankruptcy attorneys and highly recommend any one of them!